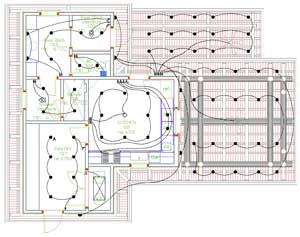 Illuminations Lighting Design specializes in personalized house lighting plans for the custom home owner who wishes to create exceptional living space within the home interior. Custom house lighting plans are unique and highly personalized, and are intended to function both as an extension of the homeowner's mind and a reflection of his or her tastes. This requires us to invest considerable time in consultation in order to fully understand the desires and needs of the homeowner. It also takes a great deal of training and experience for lighting professionals to transform the purely conceptual elements of a client's "wish list" into a workable and aesthetically pleasing house lighting plan. This in turn requires us to use superior grade lighting fixtures that feature energy efficient engineering, advanced glare shielding, and the best optic designs in manufacturing to ensure the correct quality and quantity of light output.
The lifestyle of the homeowner is the foundation of the entire house lighting plan.
Some custom homeowners have invested a fortune in a home that serves as a sanctuary from the stress of urban life. The demands of business and social obligations can wear down the nerves of even the strongest individuals. It is not by accident that many of these people live at the secluded end of a long narrow street, or in a thickly wooded area just outside of a major city and enjoy home decorative lighting. Such a home needs sophisticated layered lighting that can be dimmed at will to create a more relaxed mood and feeling of retreat from the outside world.
Other homeowners prefer to have us develop lighting plan that designates the home as a hub of entertainment and socializing. These individuals tend to invest heavily in home theater and whole house audio in order to provide friends and family with an alternative to nightlife. Multiple lighting themes appropriate to a variety of occasions, home automation systems, and one-touch home lighting controls provide vital support to home entertainment media, and many times require our certified electrical professionals to run dedicated circuitry and whole house surge protectors for the safe operation and preservation of these systems.
The homeowner's decorative tastes define the aesthetics of any home lighting system.
No custom home is ever inhabited for more than a few days before it is full of decorations and fine furnishings. House lighting planners must pay careful attention to every detail of interior design and make certain that they isolate the major elements in that design. Accent ceiling lighting should be selectively installed in order to highlight and magnify the presentation of major decorative motifs. Accent lights should be concealed as much as possible and should also feature the very best in optics and glare shielding so as to place just the right amount of lighting in key portions of the home interior.
Fine art and furniture must be lit with specialized equipment that is not available through retail channels. Expensive, original paintings require special light that has been stripped of harmful ultraviolet and infrared wavelengths. Antique displays and rare book cases require concealed lighting sources that will add depth, color, and mystique to collectible displays and private libraries.
House lighting plans must never lose sight of practicality.
Our skillful intertwining of function with form has earned us great renown as a multi-specialist lighting and electrical services firm. Our lighting designers clearly understand the simple fact that no matter how ornately decorated a house may be it is still nonetheless a house whose purpose is to provide shelter and living space for daily routines. While there are many consultants who can achieve amazing effects in specialty lighting, art lighting, and accent lighting, few companies exist like ours who can do all of these things and also provide general and task lighting that anticipates and ,on a practical level, compliments the activities of morning, noon, and night.
ILD has worked in the home lighting design, outdoor lighting, home system integration, lighting control systems, and residential new home wiring industries for 28 years now. To get started on a new house lighting plan, call us toll free now and set up a complimentary, no obligation appointment. We can be reached at 713-863-1133 or online using our contact us form. We are located in Houston Texas but provide Indoor Lighting Upgrades and design services in Austin TX, El Paso Texas, San Antonio TX, College Station Texas, Beaumont TX, Dallas Texas, Midland Tx and points beyond.