Illuminations Lighting Design extends a warm and Happy New Year to all our loyal customers.  We appreciate your lighting and electrical business and will work hard to serve you in 2011!
Are you planning any home improvement projects that require electrical work?
Remodeling your home may be something you have finally decided to pursue.  Finding the right contractors, however, can sometimes be a daunting task.  We can simplify this process significantly by acting as your residential electrical contractor.  Any remodel you undertake will no doubt involve rewiring your home to some extent.   It may also involve upgrading lighting fixtures for better energy efficiency or adding an emergency home generator with automatic transfer switch for unexpected power outages.
Our team of licensed specialists has worked for over 30 years in luxury homes throughout River Oaks, Memorial, West University and Bellaire, performing all aspects of electrical remodeling including adding recessed lighting, panel upgrades, and whole house surge suppression systems. If we can be of service, please give us a call.
We also have an extensive network of Houston contractors and builders to whom we could refer you for other services apropos to your home remodel, so call ILD at 713-863-1133 when you are ready to get started.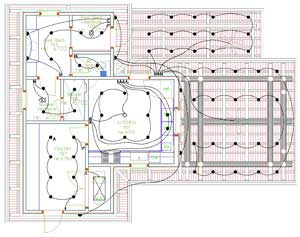 Are you building or buying a new home and need a lighting design?
An investment of this magnitude deserves careful planning and wise spending along every step of the way.  New homes often feature custom architecture on both the interior and exteriors.  We can help you do justice to your investment by highlighting the special things that make your home unique.  No doubt you have already planned an investment in interior decorating with this same goal in mind.  Please keep in mind that home lighting design is an essential component to interior decorating because it is the light that makes your furniture, art, flooring, and wall space look truly magnificent.
We are experts at fine art lighting, custom cabinet lighting, outdoor landscape lighting and creating mood and ambiance both day and night. We also know many interior decorators and landscapers who can handle other aspects of your home's aesthetic, so call ILD when you are ready to get started on perfecting the look and feel of your new home.
We combine practical experience with aesthetic taste to light the stage of your everyday experience.  When it comes to your home or business, why settle for anything less?
In Texas, there is only one name for a professional, functional and artistic lighting company: Illuminations Lighting Design.