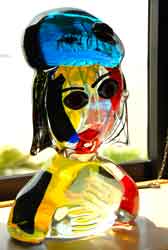 Illuminations Lighting Design specializes in the professional installation of custom art lights for paintings.  We began in the 1980s as a design firm that specialized in the skillful illumination of fine art.  Then, in the 1990s, we expanded our service offerings into residential electrical contractor services, architectural lighting, indoor lighting, and landscape lighting design.  In the last 10 years we have also mastered home automation and home theater system installation.
But our hearts will always remain the world of lights for paintings.  We have a working relationship with the world's leading art  lighting consultants and art light fixtures manufacturers. ILD has the working knowledge and experience necessary to install this equipment in any commercial or residential gallery that requires custom art lighting solutions.
The first thing we like to show our clients when we plan an art lighting system for them is the near infinite variety of fixture types available for lighting artwork.  In the art lighting world there are only so many venues to light.  Lights either mount on the surface of a structure (such as a wall or ceiling), or they mount on the art itself.   The latter are called over the picture lights because they fit on top of the frame and shine down on painting.  However, these lights can be a bit problematic.  Infrared heat builds up in these lamps and will damage fine oils and delicate canvases.  The distribution of light is also a problem, because over-the-picture lights create brighter spots near the top of the scene and darker areas toward the bottom.  When we are exploring options, over the picture lights are the most budget conscious solution.
More sophisticated lights for paintings are needed in high-end lighting applications, and more sophisticated lighting design is required to make the equipment work with the art without distracting the viewer's attention away from the art.  Understanding architecture and how homes are constructed is the other half of the puzzle in selecting the right equipment.  This allows us to match lighting design to interior décor in a manner that is mechanically correct.
It is important when illuminating art to precisely match the diameter of the light field to the size and shape of the picture you are lighting.  Too small of a field will leave portions of the work in the dark.  Too large of a field will spill light over onto the wall. Creating a precision lighting effect that matches light to art is no easy matter for the do-it-yourselfer.  This requires aiming recessed art lighting fixtures at the paintings from the proper vantage point.  More importantly, it requires using a light bulb that has an appropriate reflector that will create a beam spread equivalent to the dimensions of the picture.
There is a special science to doing this that requires a strong technical knowledge of the many different reflector style lamps that will work optimally with the multitude of art lighting situations.  Access to this variety of lamps is somewhat limited and requires a professional to obtain the best equipment.  It is never cost effective or very workable for the collector to try to figure this out and struggle through the science and math of luminaires to showcase his or her collection.
It is both more workable and more cost effective to let a professional firm choose such as Illuminations Lighting Design mount the right type of fixtures correctly for the paintings on display.   Electrical contractors may be able to install the lights, but they seldom can help select the appropriate art lighting equipment and often struggle with proper placement.
Lights for paintings include track lights, surface mounted lights, recessed lights (that go in the ceiling) and framing projectors.  Recessed lights for paintings are by far the most common used to illuminate art.  These lights for paintings need to be positioned by a lighting designer who is skilled at determining just where fixtures need to be located and angled for optimal lighting effects.
Framing projectors are sophisticated lights for paintings that are mounted in the ceiling and shine down on the objects of art from above.  Many different types of framing projectors are used in the world of art lighting.  Some are designed to be installed directly into the ceiling itself.  Others are made for retrofit mounting in an environment where ceilings cannot be cut.  Again, it takes a company like ILD to help you select the right size and mounting option for your framing projector.  It also takes a great deal of skill to adjust lens aperture ratios to match beam intensity and size to the size and genre of the painting we are lighting.
ILD fine art lighting professionals are well versed in all types of architecture and know how to place and install equipment to showcase your art. Contact us at 713-863-1133 to get started on bringing the best look to your investments with fine art lighting materials and creative strategies.  Watch your home add sophistication to comfort by choosing Texas's best experts as your one-shop solution for new ideas and new realities in light.
Illuminations Lighting Design is the only "One Stop" destination for lighting design services, antique cabinet lighting, landscape lighting services and installation in the state of Texas, and remains unrivaled by any lighting firm in the United States for lighting that is art. As homes grow larger and needs become more complex, having a single resource provides home owners with peace of mind. This translates into a smoother process, reduced costs and a better product.
We are located in Houston Texas but provide lighting for paintings and art lighting installations in Austin TX, El Paso Texas, San Antonio TX, College Station Texas, Beaumont TX, Dallas Texas, Midland Tx and points beyond.