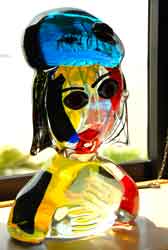 Art lighting on pedestal places art in both a special position and a special kind of light. Pedestals have always represented elevation and importance. In some cases, they have served as icons of worship and transcendence.
Placing any piece of art on a pedestal essentially gives it a position of preeminence in one's collection. The task of lighting such a piece requires expert knowledge of art, luminance, illuminance, and the skillful use of shadow as a counterpoint to both. It also requires access to specialty recessed lights and framing projectors that can be adjusted to the specifics of individual works and unique displays.
There are two ways our team can light art on a pedestal. The first of these is to create a controlled pool of light that surrounds the entire display. ILD art lighting experts install specialty low-voltage recessed lights in the ceiling above the pedestal. These fixtures project a finely tuned beam of light toward the floor that encircles the display with an aura of luminance.
Such an effect is both sublime and transcendent, because it makes the art look like it has been transfigured from a transcendental source. Collectors who prefer classical art, historical pieces, or clearly traditional forms often prefer to light sculptures on pedestals with this aura of transcendence.
However, the sublime and transcendent are not apropos to all forms of art. Both concepts are rooted in realms of thought typically thought of as metaphysical, if not purely mystical. More contemporary and existential forms of expression express a seek meaning in a much more empirical world. Even thought, which was once considered esoteric in its own right, is now regarded by many as purely bio-chemical in origin.
Contemporary collections therefore tend to showcase art on pedestals that use mentalist geometry to give empirical form to thought and make the previously intangible tangible in stark forms and rugged proportions. Sometimes these forms of modern art lighting are quite shocking to the eye because they challenge our assumptions, preconceptions, and even our very belief systems.
Consequently, lighting art on pedestals demands that we abandon any attempt to move beyond thought and sensory experience into some other dimension that may not even exist. Focus must be established, and must remain, in the here and now.
To communicate this very strong tenet of contemporary art, our art lighting consultants can adapt the light to actually fit the contour of the piece. By doing so, we can follow any angle, no matter how acute or obtuse, or any radius, no matter how great or how minimal the degree of its arc.
Please also keep in mind that these principles are only guidelines and not rigid absolutes. There are times when light is shaped around a traditional, classical, or even religious piece, and there are modernist collections that are so eclectic that even the assumed rules of lighting are turned upside down to give the collection as a whole a predisposition to the unpredictable.
Without trying to figure all of this out to your chagrin, frustration, or utter dismay, simply call our art lighting company for a consultation. He or she will look at your collection and design a turnkey art lighting solution that will place each piece in its own special light without separating its importance in relationship to the whole.
Art lighting was the first service offering of ILD, whose repertoire has since expanded to include interior lighting design, commercial outdoor landscape lighting, cove and cabinet lighting, and home automation and lighting control systems.
Whomever the artist and wherever the artwork is located, you can trust the professionals at Illuminations Lighting Design to design and implement a fine art lighting theme that will showcase your collection in the best possible light on a budget you can afford. Let a trained fine art lighting lighting company help you with your art collection.
Illuminations Lighting and Design multi-specializes in all forms of sculpture lighting and maintains an outstanding reputation among both residential and corporate clientele alike. Contact us now at 713-863-1133 to request a company brochure, schedule a design consultation or request design proposal.