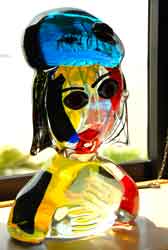 Lighting sculpture on a pedestal requires a blend of technical expertise and aesthetic awareness. Illuminations Lighting and Design art lighting consultants deliver value in both arenas. As a consulting firm, we specialize in all forms of art lighting services and recessed art lighting design. As an equipment source, we operate as a specialty vendor for the most advanced equipment manufactured for custom lighting systems and innovative home lighting solutions.
Lighting sculpture on pedestals requires the use of recessed lights mounted in the ceiling. All recessed lights are flush mounted to the surface, but they vary in fixture size, performance, control, wattage, and lamp type. Going to a lighting store will quickly overwhelm the art collector with too many choices. Each fixture must be carefully chosen, and an appropriate lamp must be fitted to that fixture to produce the desired lighting effect.
Hiring an art lighting consultant is the best way to go when approaching something as complex as lighting sculpture on a pedestal. Someone with years of experience in designing entire art lighting systems will immediately be able to determine which fixture types are best suited to a particular piece. The consultant will also know what lamp types are optical to house within that piece to produce the essential pooling of light that is needed to preserve the three dimensional appearance of sculpture.
ILD consultants have been doing this for thirty years. As experts in both electronics and art design, they are able to select equipment from any number of top commercial grade art lighting manufacturers and configure a system that creates the pools of light that are essential to lighting sculpture on a pedestal. Such pools of light illuminate three dimensional surfaces in a very unique way. The lighting consultants actually combine light and shadow in such a manner as to preserve the contours and lines in sculpted forms. This avoids making the piece appear "flat" when viewed from a forward angle.
Selecting the equipment to accomplish this is beyond the scope of service that most electricians offer, and it requires far too much experimentation time than the schedule of the average private collector allows. Trained experts who have already configured a myriad of similar systems can much more quick more quickly—and efficiently—generate the right intensity, tone, brightness, and touch of subtle shadow in just the right places when lighting a sculpture on a pedestal.
Additional effects can then be added to the piece by installing a hidden framing projector in the ceiling above it. When a framing projector is used for lighting sculpture on a pedestal, the effects are quite different from the pooling of light generated by recessed fixtures. The light is literally contoured around the form of the object, making it appear to glow with light from a mysterious source within.
Lighting designers must be able to balance the luminance of the projector with that of other home lighting designs. They must also be able to find a projector model that will allow them to adjust the beam spread precisely to the form it illuminates. This, again, requires a very special knowledge of lighting as art and a thorough understanding of the technical pieces that will have to go into a system that will produce the art of light.
Whomever the artist and wherever the artwork is located, you can trust the professionals at Illuminations Lighting Design to design and implement a fine art lighting theme that will showcase your collection in the best possible light on a budget you can afford. Let a trained fine art lighting lighting company help you with your art collection.
Illuminations Lighting and Design multi-specializes in all forms of art lighting and maintains an outstanding reputation among both residential and corporate clientele alike. Contact us now at 713-863-1133 for a complimentary consultation and design proposal.