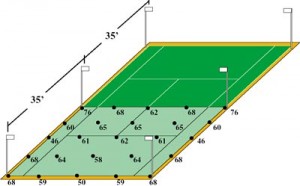 One of the many services that Illuminations Lighting and Design offers to custom home owners, commercial entities, and high-end hospitality lighting clients is a full photometric analysis of their home, business, or grounds.  We use a specialized software program called AGI32 designed for the calculation of lighting levels and the rendering of electric lighting systems.  The capabilities of this photometric analysis software are incredible, and can be used to determine the best possible lighting levels for any residential or commercial lighting environment.  The software creates a 3-D model of the room, home, or building, then allows us to input hypothetical figures to determine where best to install low voltage recessed lighting fixtures and what angles of lighting incidence to incorporate in the overall design of the system.
One of the main reasons we have invested in AGI32 and rely on it so extensively is that we have found it to be the best art lighting and interior lighting design tool on the market for pinpointing problematic areas of darkness and shadow.  Any outdoor or indoor environment is going to contain physical objects that will cast shadows when light strikes them from certain angles.  Shadows are caused not so much by inadequate amounts of light, but rather by inaccurately calculated angles of incidence that send a beam of light straight toward a solid object which blocks luminance completely on the other side.  Sometimes, these areas are very hard to find from an eye-level perspective, but become all too evident once lighting fixtures have been installed and shadows suddenly spring from out of nowhere.  A photometric analysis easily overcomes the limitations of human height by calculating foot candle density and beam angle direction from every possible angle.
The 3-D modeling aspect of our photometric analysis software allows us to literally move around these objects from any angle, height, or perspective to see where best to locate a ceiling light, lamp, recessed fixture, picture lighting, pendant, or chandelier.  We can also experiment with different wattages and lamp types to determine the most efficient lumens per watt ratio once the optimal angles have been located.  In commercial environments, this goes a long way toward saving businesses a great deal of money.  In much the same way as interior decorators and furniture planning specialists develop a room by room space management plan, our analysis software can produce a room by room photometric report of floor space and vertical cube space to determine precisely where to install lighting equipment and exactly how much power each light will need to do its job.  The result of all of this is a much more energy conscious, Spartan system that relies much more on design, light distribution, and precise lighting angles than it does on excessive numbers of fixtures using more power than necessary.  This in turn results in the secondary benefit of improved fixture concealment.  Because these reports tell us exactly how many watts and lumens we need for each fixture, it is often possible to use smaller, more concealable lights for a more aesthetic compliment to the overall environment.
Because we supply luminaires from so many different US manufacturers, we use our photometric analysis software to help determine which engineering design, model, and brand will best fit a particular client's interests.  What might be the best fixture to install in a small, stand alone office building may not be the best choice for a multi-story building, home electrical remodel or commercial business park.   Every manufacturer offers proprietary and highly specialized fixture designs and energy efficiency safeguards, and lamp life varies as well between the various proprietary designs.
AGI32 photometric analysis software actually contains manufacturer's spec sheets and engineering documents on specific fixtures in different categories. We can use this database to generate a luminaire comparison report instantly that details optics, lumens per watt efficiency, and expected lamp life.  By cross referencing this information with previously determined fixture placement recommendations, we can pinpoint the best possible quality and most energy efficient luminaires to use in commercial, residential, and high-end lighting design.
A photometric analysis is only one step in the design process, of course, but it is a much needed foundational step that eliminates the guesswork from the complex blend of technology and aesthetics that defines our industry.  Call us today to learn more about our lighting design services or to schedule an analysis of our home, office, or hotel to maximize the effectiveness of your lighting and streamline the cost of operation with concealed fixture placement and multi-layered, aesthetically superb lighting effects.
We encourage you to contact us toll free at 800-863-1184 to learn more about Illuminations Lighting Design.  For over 28 years we have been quietly and effectively providing world class lighting design services throughout the United States.