Spring Landscape Lighting Ideas: 10 Creative Ways to Illuminate Your Garden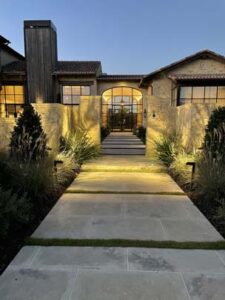 It's no surprise that many homeowners and gardeners alike look forward to spring: after months of dealing with grey skies, stifling temperatures, and the same old winter scenery, the promise of sunshine and abundant flora brings an incredible burst of energy. Of course, when the time arrives to enjoy your garden in full bloom, you'll want to make sure you get the most out of its beauty – and that's where spring landscape lighting ideas come in!
From subtle ambient designs to bold statement-making looks, landscape lighting can create a magical nighttime atmosphere with ease. Whether you're looking to add subtle illumination to your garden pathways or make a bold statement with vibrant displays of light, we've rounded up 10 creative ways to make your garden glow this spring. From illuminating sections of your landscape to highlighting specific types of plants to creating a cozy, inviting atmosphere, these spring landscape lighting ideas will help you get the most out of your garden and create memories that last all season long!
Spring is a great time to add some vibrant lighting to your landscape. Try adding some tiki torches around pathways, colored LED bulbs near flower beds, or twinkling fairy lights wrapped around trees to inject a splash of color into your garden.
Illuminate Garden and Yard Landscape Lighting
When it comes to achieving an aesthetically pleasing and vibrant outdoor space, landscape lighting is essential. Brightening up your garden and yard with tasteful fixtures and illuminate the scenery at night can bring a whole new level of life to your outdoor experience. For example, highlighting attractive ornaments in the garden can be made that much more noticeable with the use of landscape lighting. The same goes for trees, flower beds, gazebos etc. – they all benefit from being correctly illuminated.
Whether you opt for low-level LEDs or motion sensor spotlights, it is important to be thoughtful in your approach. A light too small might not provide enough illumination, while one too large might shine too intensely on certain elements in your garden or yard. Get creative when arranging them too – make sure you spread them out evenly around the area so that no one parts are overly illuminated while another is left in darkness.
With the right combination of products and careful consideration, you can take your outdoor space to a whole other level by using landscape lighting. And now with these suggestions as a guiding hand, it's time to look at what else you can do next – such as installing newer bulb types or LED lights – that can elevate your garden atmosphere even further.
Landscape lighting is essential for creating aesthetically pleasing and vibrant outdoor spaces. To make sure the right light fixtures are used, it is important to be thoughtful in the approach and creative when arranging the fixtures which should be spread out evenly. With this guidance, newer bulb types or LED lights can be installed to further elevate the atmosphere of a garden.
Install New Bulbs or LED Lights
It's time to take your landscape lighting to the next level. Installing new bulbs or LED lights is an easy, cost-effective way to get creative with your garden lighting. With just a few carefully chosen lights, you can completely transform your outdoor living space. LED lights come in all shapes, sizes and colors, making it easy to create whatever effect you want. Plus, LED bulbs use much less energy than traditional lighting, so you'll be able to have them on for longer but won't have to worry about burning through your electricity budget.
A definite consideration when installing new bulbs or LED lights is the location of these lights. You'll need to consider how high up and out of sight they should be placed, as well as the kind of light fixture that will suit the nature and style of your garden best. You can also opt for solar-powered LED lights or add fixtures with wireless remotes that allow you to customize and control the illumination from afar. Finally, choose bulbs and fittings with a long life span; while they may require a higher initial purchase price, they'll ultimately save you money over time with fewer replacements needed.
Once you've navigated through all these decisions concerning the installation of new bulbs or LED lights in your garden space, it's time to move on to other creative lighting ideas like creating artistic effects using different shades of light or playing with shadows. As landscapes are often used for entertaining guests outdoors, it's important that any light design complements its surroundings rather than overtaking them.
Create Light Artistic Effect
Moving beyond the practical task of installing new landscaping lights, you can also create a stunning artistic effect. Light art is increasingly popular in outdoor decor, and many homeowners are taking advantage of this concept to give their gardens an amazing visual boost. By positioning well-placed lighting or introducing creative designs or patterns, you can create subtle beauty or an eye-catching spectacle — no matter your budget.
If you want to get creative but keep it simple for a more classic look, consider outlining the steps leading to your porch with twinkling string lights or installing contrast between light pathways and shaded areas. If you're feeling daring, create a bold statement by adorning trees with spotlights creating eye-catching shadows or illuminating your garden with a light canvas projected onto a wall or fence.
No matter which approach you take, creating visual interest and drama can quickly transform any outdoor landscape – from functional to eccentric – it all depends on what kind of impact you want to make on your garden! Taking the time to think about the design and layout for your lighting can truly pay off; when done right, it will be sure to make everyone ooh and ahh come nightfall.
According to a survey of over 1,000 homeowners in 2019, 53% of respondents planned to add outdoor lighting to their home landscaping in the spring.
A 2018 study found that selecting energy-efficient LED landscape lighting can reduce energy consumption by 50%-80% compared to halogen and incandescent lightbulbs.
According to the American Lighting Association, indirect landscaping lighting can create a warm and inviting atmosphere while illuminating pathways and highlighting focal points in your yard.
Design and Renovate for Spring Landscape Lighting
As spring is often a time of renewal, so too should be your landscape lighting. If you're looking to refresh your outdoor space, consider a few design and renovation projects that can bring life back into your garden with the help of some carefully placed lights. One way you can do this is by adding new fixtures that are designed to be gorgeous as well as functional. You could also spruce up existing fixtures for a fresh look in both the day-time and the night-time.
If you're particularly ambitious about your light show, consider going for a full remodel of your entire landscape. Installing spotlights or directional lights can provide views into areas that were otherwise hidden from sight due to the shadows cast at certain times of the year. Creating attractive walkways can also add a cinematic feeling to an area when used with small accent lights tastefully positioned around them.
But these lighting changes don't have to be expensive or time-consuming – even small renovations can make all the difference when it comes to aesthetic appeal. For instance, renewing old wiring and replacing outdated lamps with more energy efficient ones are simple solutions that improve performance as well as giving off a great look for years to come.
The possibilities for creating or enhancing beautiful outdoor spaces with this type of lighting are endless. Ultimately, selecting which path you want to go down will depend on your individual needs and preferences – but exploring new designs, materials, and techniques can open up interesting ideas in terms of presentation and practicality.
Whatever direction you decide on taking your spring landscape lighting project in, it will undoubtedly add joy and beauty to your garden after the winter months have past – providing an enriching atmosphere that both friends and family alike will enjoy gathering in throughout the warmer seasons ahead.
And speaking of making improvements to your garden, there are plenty of other aspects that can be taken advantage of during springtime; such as incorporating bright ornamental plants into the mix to add splashes of color around the landscape or adding features like fountains that make use of solar illumination for a subtle yet enjoyable glow come darkness.
Plant New Ornamental Plants
Designing and renovating your garden for spring landscape lighting is an excellent way to bring warmth and cheer to your outdoor area. However, adding ornamental plants to your existing landscape can also make a huge impact on the overall aesthetics. Depending on your taste and personal preference, you can choose from a variety of ornamental plants that come in different shapes, sizes, textures, and colors. For instance, if you're looking to achieve a classic look with subtle elegance, you may want to consider opting for climbing roses or yellow iris. On the other hand, if you prefer the modern look with vibrant colors, then choosing flowers like bright-colored lilies or daisies could be more suitable.
When it comes to debating both sides of the argument for planting new ornamental plants in your garden for spring landscape lighting, it largely depends on several factors such as budget, space available, climate conditions and gardening skills. Planting ornamental plants requires careful planning and considerable financial investment as well as time and effort to make sure they thrive in their new environment. If you're tight on budget or lack the necessary expertise to properly manage your plants after purchasing them, it might be best to hold off until these conditions become favorable. On the other hand, if you have enough funds and are confident in your gardening skills, then getting new ornamental plants can be a great idea as they can instantly add beauty and charm to any garden setting.
Of course, evidence suggests that not all ornamental plants require large budgets and long-term maintenance — low-maintenance flower varieties like coreopsis or Shasta daisy are very easy to care for but still add lovely visual accents to any garden. Moreover, other components such as potted plants or wall baskets provide unique lighting opportunities and can be used as accent pieces that can draw all the attention towards an otherwise dull corner in your garden.
Once you have decided which ornamental plants would fit into your springtime landscaping ideas and plans, it's time to begin illuminating pathways with exterior lighting fixtures! By strategically placing lights along pathways and around features like pools or trees, you can create a delightful backyard ambiance that will transport anyone who steps into it.
Illuminate Pathways and Exterior Surfaces with Lighting
After adding a pop of color with new ornamental plants, it is time to move on to the accent lighting that will really help to highlight your garden's beauty. By illuminating pathways and other exterior surfaces with creative lighting techniques, you can give your garden an elegant, inviting aesthetic.
Lighting up walkways can help visitors navigate around more easily, as well as provide an additional layer of security. Try using low-voltage LED lights to subtly light up a curving pathway through the flowerbed. Depending on the size of your garden and budget, you can also opt for small spotlights that are installed along borders and walls. Other options include placing ground-level solar lamps along pathways or hanging lights and string lights over outdoor seating areas.
Not only do these solutions look aesthetically pleasing, but they can also be beneficial in practical aspects as well. Many of these lighting solutions come with motion sensors or warm glow functions that make them appropriate for outdoor spaces. Additionally, many appeal to homeowners looking for energy efficient solutions due to their relatively low power usage compared to other outdoor lighting solutions.
With the pathways illuminated, it is time to explore options to add even more pizzazz to your garden by using decorative lights for impact. With careful planning, you can use different lighting fixtures in unique ways to create stunning focal points around your yard or brighten up furniture pieces – just think of all the possibilities!
Decorative Lights for Impact
Decorative lights provide the perfect way to spruce up your garden and give it an added bit of sparkle. With their brightly colored and whimsical designs, decorative lights will bring a touch of pizzazz to your outdoor space. Whether you're looking to add a splash of extra color to your deck or porch, or highlight architectural features around your house, decorative light fixtures can do the job. As opposed to lighting integrated into the structure of your home, ornamental lights offer more creative and unique ways of accentuating pathways and exterior surfaces.
One option is stringing up globe or lantern lights in trees and bushes. These can be hung at varying heights, creating a rainbow effect across the garden. Alternatively, use multi-colored stem lights on a post or trellis for an enchanting centerpiece during evening gatherings. You could also add twinkle lights along banisters, railings, and fences for an ethereal feel. Another idea is fashioning DIY lighting fixtures like luminaries made from Mason jars or old bottles, which can be strung up along pathways for added drama and whimsy.
Overall, decorative lighting can make all the difference when it comes to sprucing up your landscape—while providing additional illumination and ambience as well. And with so many options available in various shapes, sizes, colors, and materials, you're sure to find the perfect set of lights to match your décor style. But if you're looking for a more permanent—or even subtler—solution for dinner alfresco or illuminating an area of your garden with visual impact directly from within that area itself, consider artificial light sources like solar lamps as a viable alternative.
Consider Artificial Light Sources for Additional Illumination and Ambience
Once decorative lights are in place, it's time to consider artificial light sources for additional illumination and ambience. The debate between using natural or artificial lighting is an old one, but both certainly have their pros and cons to consider. Artificial light sources can provide a more measured and reliable light; they're economical and often require minimal setup. On the other hand, natural sources are becoming more popular since they offer a broader scope of ecosystem benefits than their artificial counterparts.
When it comes down to it, the decision depends on the desired effect and landscape design of your garden as well as budget concerns. Nonetheless, there are a few key points to keep in mind if opting for an artificial source. LEDs provide bright directional lighting with minimal energy consumption and bulbs that last years. These features make them an excellent choice for safety-related paths and walkways, as well as providing a dramatic effect around hardscape structures like walls and patios. Additionally, LED strips can be installed along edges for a bright yet subtle illumination and offer various colors that can be changed easily – perfect when looking to give your garden different looks from season-to-season or event-to-event.
This versatility of artificial light sources adds another layer of creativity when designing a landscape lighting plan – allowing for both practical use as well as accentuating larger landscape designs This exciting additional layer is just the beginning of unleashing greater possibilities to make your outdoor space come alive!
Change up the Color and Effects to Accentuate Your Landscape Design
When it comes to garden lighting, the possibilities are truly endless. It's important to think beyond the traditional white 'holiday lights' for decorative illumination and ambience in your landscape design, you can mix up the colors and effects to create something truly unique and eye-catching.
Colors and effects can have a dramatic impact on how landscape lighting looks in your night-time garden. Using shaded or colored bulbs is an easy way to switch up the light without changing the fixtures themselves. Warm white tones create a cozy atmosphere while cooler whites look great with modern landscapes. If you want to spice things up, consider using pink, purple, or blue lighting gels to create different moods with colored filters. In addition to filtered colored light, some LED sports are available in fixed colors like reds, greens, and blues – perfect for creating fun outdoor designs that stand out.
On top of change up the colors of light, you can also alter the effect of your light source by adjusting its beam angle. Spotlights and floodlights are typically available with either wide-angle beams or narrower ones that cast a concentrated "spot" of light onto a specific area. Narrower beam angles create sharper contrast between brightly lit features and dark areas for a more dynamic effect. Conversely, wider beams can make subtle differences between different levels of brightness more noticeable, such as between grassy lawns and paved walkways. Utilizing varying combinations of spotlights and floodlights equipped with different colors and beam angles will yield the most creative spring landscape lighting designs.
Although adjusting colors and effects is a great way to really bring out the personality of your garden design, it may take some trial and error to find exactly what works best for you. Once you understand how colors interact with your surroundings at night, you'll be able to craft just about any kind of look you want – from bright twinkles scattered around trees to brighter pools of light highlighting beds or planters—allowing you get creative with your outdoor space while adding visual interest come nighttime.

Frequently Asked Questions
How much light should be used in a spring landscape lighting design?
When it comes to spring landscape lighting design, the amount of light should depend on the size of the garden. For small gardens, the rule of thumb is to use one light per square meter. For larger gardens, you might need multiple lights depending on how much illumination you want in certain areas. Make sure that each light is appropriate for its purpose – one for providing general lighting and one for accenting pathways or flower beds. When choosing a type of light, LED is typically the best choice as it is energy efficient and longer lasting than most other types of bulbs. Lastly, be sure to space out your lights properly to ensure optimum coverage and aesthetics.
What types of landscape lighting are best suited for spring?
The best type of landscape lighting for spring is one that emphasizes the beauty and vibrancy of nature. This could be achieved with lights that have a warmer hue and brightness so it can accentuate the colors of the flowers and plants in bloom. Fittingly shaped   lights such as buttercup fixtures or string lights adorned with blossoms can add an extra touch of spring-time charm to your landscape lighting design. Additionally, directional lights like garden spotlights or up-lights can be used to shine on prized decorations or plants – such as bird houses, flower beds, and trees – which will make them stand out against more subtle pieces like planters and patio furniture. With these creative solutions, you can transform your backyard into a blazingly beautiful spring wonderland!
What color schemes should be used for spring landscape lighting?
When it comes to a spring landscape lighting color scheme, the most common choices are white or warm-toned lighting. White lighting is great for bringing a sense of brightness and clarity to an outdoor area, while warm tones like amber and yellow can provide a cozy and inviting atmosphere. In addition, pastels and softer hues like pale greens, blues, and lavenders can be used to create subtle accents that give the space a soft and peaceful feel. Ultimately, the best choice for a spring landscape lighting color scheme depends on the desired atmosphere – bright and airy or cozy and inviting.