Unlock the Magic of Landscape Lighting Design – What You Need to Know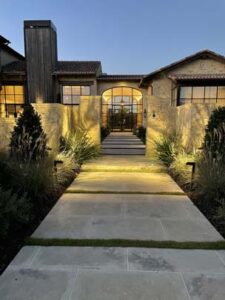 Have you ever been awestruck and mesmerized while driving in a neighborhood with stunning landscape lighting design? Do your dreams revolve around the idea of coming home to a landscape that is illuminated so flawlessly that it looks like a work of art?
Well, you're in luck! This blog post is here to help you unlock the magic of landscape lighting design and will tell you all the things you need to know before embarking on your own design journey. We'll cover topics such as selecting the right fixtures and lamps, proper installation, and proper maintenance for a stunning and long-lasting design.
Quick Overview of Key Points
Landscape lighting design is an approach used to enhance outdoor spaces and highlight different features of your outdoor area. Through the use of ambient, task, and accent lighting, you can create a visually appealing space with both functional and aesthetic benefits.
What is Landscape Lighting Design?
Landscape lighting design is when the design and installation of fixtures to illuminate outdoor areas are strategically planned and implemented. Achieving a successful lighting design requires knowledge of both the environment and the materials used in lighting, such as bulbs, fixtures, controls, lenses, and wiring. The goal of landscape lighting is to enhance the beauty and safety of an outdoor space while also creating ambiance. Landscape lighting can have many different uses from providing visibility for surrounding activities and pathways to creating a specific mood or atmosphere.
The debate about landscape lighting design focuses on whether it should be used for purely aesthetic purposes or for practical functions as well. Proponents of the use of landscape lighting strictly for aesthetic reasons argue that its primary purpose is to provide artistry and create desirable settings with form, color, application, and light distribution. On the other hand, those who favor using landscape lighting for practical purposes argue that it should be used to provide better visibility in dark areas – especially in residential environments – where security considerations often come into play.
No matter which side you agree with, landscape lighting design can still provide both enjoyable aesthetics as well as functional utility if implemented correctly.
Purpose of Landscape Lighting Design
Landscape lighting design is an artform and a science, utilized to maximize the aesthetic, practical, and safety aspects of outdoor areas. It is the practice of planning and implementation of lighting fixtures with both functional and decorative purposes. The primary purpose of landscape lighting is creating ambiance and enhancing the beauty of properties by emphasizing desired elements while concealing eyesores. Fixtures may include spotlights, floodlights, path lights, wall sconces, or downlighting, selected to fit specific objectives.
The inclusion of landscape lighting also increases safety, making pathways easily visible and deterring potential dangers such as intruders. Implementing adequate lighting can be a deterrent to crime due to its visibility effects, since improved visibility enhances people's feeling of security and reduces the potential for criminal activities or vandalism. Homeowners should consider taking a proactive approach when it comes to protecting their property by installing excellent lighting systems from professional companies – not only to make spaces look beautiful but also increase security. Depending on individual needs, various sizes and shapes of fixtures can be chosen that can blend into the existing structure without compromising its aesthetics.
Whether homeowners are looking to enhance ambience or provide more safety for their property, proper landscaping design can play an invaluable role in achieving those objectives. Combining both artful placement with secure installation techniques is essential for the successful implementation of landscape lighting solutions. Thus, considered from many angles, using landscape lighting presents attractive options for homeowners that keep not just aesthetics but also security in mind.
Enhance Aesthetic and Beauty of Property
When it comes to enhancing the aesthetic and beauty of a property, landscape lighting design is an important tool. By bringing attention to architectural features and outdoor areas, outdoor lighting creates visual interest and draws attention to beautiful landscaping. From soft glowing accent lights that make an outdoor walkway feel inviting, to dramatic uplighting that casts beautiful shadows on trees and walls, landscape lighting design can turn a simple space into an amazing oasis.
On the other hand, it is important not to over-illuminate an area with landscape lighting. Too much light can make a space uncomfortable and overwhelming. As such, it is important for homeowners or commercial estate owners to strike a balance when using landscape lighting design in their properties.
Fortunately, there are many options available for both aesthetic and functional purposes that allow personalization of outdoor spaces. It is possible to mix and match outdoor fixtures in order to achieve desired effects while still keeping the overall illumination of your property under control. Professional designers should be consulted when planning large-scale lighting projects.
By taking time to creatively consider all aspects of landscape lighting design, homeowners and commercial estate owners can transform their properties into visually stunning results that enhance their enjoyment of the outdoors—day or night.
Creative Possibilities with Landscape Lighting
Landscape lighting design has the potential to create captivating outdoor spaces that capture the beauty of the night sky. With the right techniques and products, homeowners can bring natural-looking light into their outdoor living areas for a safe and attractive nighttime environment. But what are some of the more creative possibilities with landscape lighting?
One common way of creating an interesting nighttime atmosphere is to use accent lighting. Accent lights can be used in a variety of ways including up-lighting trees, down-lighting walls or walkways, grazing plants, uplighting sculptures and water features, and spotlighting special plant specimens or architectural details. This type of landscape lighting helps highlight specific features in your outdoor space while providing illumination in strategic places. By mixing multiple light colors or layering colors, homeowners can create even more subtle and beautiful ambient backgrounds.
Another creative option for landscape lighting design is to combine the use of different light types together. For example, using up-lighting to highlight trees in combination with a moonlight effect created by wash lights on pathways creates an unforgettable nighttime atmosphere that is both practical and aesthetically pleasing. There are nearly endless options when it comes to combining these different combinations and effects to capture the atmosphere you want to achieve in your backyard's ambience.
There are also various modern lighting products that offer even more possibilities for high-tech style landscaping designs. For example, LED rope light strands have become popular recently due to their energy efficiency and affordability compared with traditional rope lights. Advancements in technology have made it possible for homeowners to add decorative bollard lights, recessed lighting fixtures, wireless motion sensors, security cameras, integrated audio systems and many other eclectic accessories into their outdoor living area. And because they're all designed with weather resistance in mind, these pieces are perfect for enduring any seasonal elements without having to worry about replacing them often.
These creative possibilities illustrate how versatile landscape lighting can be as part of a homeowner's outdoor decorating projects. With such varied options available, creating an inviting nighttime environment that converts an average yard into a beautiful oasis is only limited by one's imagination.
Moving forward with these creative ideas we now turn our attention to another facet of landscape lighting design: accent lighting. Accent lights can define boundaries within hardscapes as well as add visual interest by highlighting objects such as sculptures and planters within garden beds or pathways
Accent Lighting
Accent lighting is an important element in any landscape lighting design plan. It serves to showcase the more prominent features in a yard, such as trees and shrubbery, natural features like rocks or hills, and man-made features like walkways and flower beds. Accent lighting can be used to narrow your focus on a single area or to draw attention to several different spots throughout the landscape. Depending upon the overall size of the property and the desired visual effect, both up-lighting and down-lighting can be used successfully as accent lighting.
Up-lighting is directed from below and creates shadows that dramatically play off of vertical shapes, including trees and other tall features in a yard. Down-lighting is used to illuminate open areas from above, emphasizing patterns in walkways or flower beds, highlighting large surfaces like stone walls or pavers, and lending unifying accents across different areas scattered throughout the property.
No matter which type of accent lighting you choose for your project, it's important to remember that these are not workhorse lights; they are intended to draw attention to certain areas rather than blanket illumination and should be used sparingly so as not to overwhelm. The perfect number of accent lights depends upon your individual landscape, but you should strive to place them judiciously for maximum impact.
The appropriate and strategic placement of accent lighting is a key component of successful landscape design. With careful consideration of each feature in a yard and a thoughtful approach to lighting layout, you can bring out the very best in your outdoor space while creating stunning visual effects.
Appropriate and Strategic Placement
When properly planning landscape lighting design, it is essential to place lights appropriately and strategically. Placement is key in achieving the desired look. In order to achieve a balanced and tasteful design, it is important to make sure that not too many lights are in one area or that too few aren't in another. Lights should also be placed efficiently so all areas of the property, including trees and foliage, can have access to light.
When placing lights outdoors, oftentimes it may be best to place them on separate circuits so that controlling brightness can be much easier; lights placed on their own circuit will allow switches or dimmers to control brightness more effectively than several shared circuits. Additionally, when lights are grouped together, try to group them close enough together so that their beams overlap for a softer and fuller feel of illumination, yet still far enough apart so there isn't too much brightness in one spot.
Another factor for consideration when strategically placing landscape lighting is the weather. Make sure placement takes into account how strong sunlight can be as well as how rainy or foggy days can seem darker than usual. Also remember small details like the wind which can throw off lights from ledges and balconies if not fastened safely enough. Being mindful of the environment around you when placing lights will ensure they endure even the harshest elements while still providing the most effective results.
Finally, there is a debate between professional designers as to whether homeowners should install lights themselves or have a specialist do it for them. Those who argue in favor of doing it yourself say that DIY projects often offer an opportunity for personal expression and creativity; whereas those against suggest leaving these technical aspects to experts whose knowledge of safe wiring will prevent any disasters from occurring. Ultimately whatever decision is made should prioritize safety first above all else.
Installation of Landscape Lighting
The installation of landscape lighting is a critical process for achieving the goals of your landscape design. Whether you're aiming to highlight features such as trees and plantings or brighten up an outdoor space, an expertly installed landscape lighting system will be the key to success. When it comes to installation, there are two main choices: DIY installation or contacting a professional contractor.
DIY installations can seem like a great way to save money in the short-term, however there are potential risks that come with these kinds of installations. The wrong equipment can be selected, the wiring can be installed incorrectly, and the lights may be placed in inappropriate locations. While some situations are suitable for a DIY approach, it's important to remember that without the proper experience this option could end up costing more in repairs down the line.
On the other hand, a qualified contractor offers expertise and peace of mind knowing that your system will be designed and installed correctly from the start. Professionals have access to higher quality products, specialized tools and have usually have years of relevant sector experience. They are also armed with the knowledge about local laws or codes pertaining to outdoor electrical wiring systems. As such, choosing a contractor ultimately guarantees you're getting value for money whilst also protecting your interests and safety in the long run.
Benefits of Landscape Lighting Design
The benefits of landscape lighting design are numerous and can provide extra warmth and coziness to outdoor space. Well-designed outdoor lighting can create an intimate atmosphere and a sense of security on dark evenings. With the right illumination in place, you can open up your outdoor area to more use and enjoyment.
Privacy and Convenience: Properly illuminated outdoors allow homeowners to extend their living space into the nighttime hours, with added security benefits at the same time. Softening shades of light around walkways and pathways help to identify areas of movement and also add visibility for increased safety, especially during the nighttime.
Aesthetic Appeal: Creative landscaping designs are enhanced by additional artistic touches created with strategically placed lights. Carefully arranged light fixtures can create stunning, sculptured shadows within trees or around garden beds, creating attractive visuals all year long. Multiple varieties of shapes, sizes, and textures come in various hues or whites for creative possibilities.
Increased Usability: Outdoor lighting helps to bring your patio to life after the sun sets. Comfortable patio seating areas which may have only been used during the day will now become inviting hangout spots for much longer gatherings with friends or family members under the stars during nighttime use! Plus, incorporating landscape lighting opens up new opportunities for activities you may not have considered without it – like late evening parties, sports games or even a soothing spa retreat! It's amazing the transformation one simple installation can make to any backyard space.
Eco-Friendliness: Many modern light fixtures are powered by LED energy-efficient bulbs that stay cooler while using far less energy than traditional incandescent models. The durable construction is also weather-resistant so they last longer and require minimal maintenance over time.
While there are many advantages to adding landscape lighting to your home's exterior, there are also drawbacks that should be considered before taking on such an undertaking. One potential issue could include the high cost associated with installation, maintenance and replacement of parts over time due to weather or other conditions beyond your control. Additionally, poorly designed outdoor lighting might cause excessive glare in certain areas or throw an unflattering spotlight on particular aspects of your landscape – making them look worse rather than better! As such, careful consideration should be given when planning out any new external lighting scheme for both budgeting purposes as well as aesthetic reasons.

Frequently Asked Questions
What considerations should I consider when designing my landscape lighting?
When designing landscape lighting, there are several key considerations to keep in mind. Firstly, you want to ensure that the lighting is adequately bright so that it provides enough illumination for activities such as entertaining or nighttime landscaping tasks. Additionally, it is important to ensure that the lighting is evenly distributed and positioned in a way that creates a pleasing aesthetic. Moreover, the budget should be taken into consideration to make sure you choose the best lighting available without breaking the bank. And finally, consider energy efficiency when selecting your lighting fixtures, as this will help you save money in the long run. With these considerations factored in, you can create a striking and effective landscape lighting design with ease!
What materials and tools do I need to install landscape lighting?
To successfully install landscape lighting, you will need a few essential materials and tools. First, you'll need the fixtures themselves. Choose fixtures that are both stylish and durable so they can withstand all sorts of weather conditions. Additionally, make sure they are compatible with the type of power source you plan to use (i.e., solar or electricity).
Second, depending on the type of power source, you may need additional supplies such as wiring and a transformer. If you're using solar-powered lights, then you'll need to make sure to purchase high-quality rechargeable batteries along with an appropriate solar panel.
Finally, it is important to have the right tools on hand when installing landscape lighting. This includes items such as wire cutters, screwdrivers, hammer, pliers, and ladder. Additionally, having a tester on hand will help you ensure that all connections are properly wired before powering up your system. With these materials and tools, you should be well prepared for your landscape lighting installation project!
What are the different landscape lighting design styles that are available?
There are a variety of different landscape lighting design styles to choose from, depending on the look and feel you are trying to achieve. Some popular landscape lighting design styles include Path Lights – Path lights create an inviting path or walkway for visitors. The lights can be either up or down-lighting, creating either a subtle light source or one that stands out more. Wall Lights – They can be used to highlight a dramatic wall feature or spotlight elements of architecture, such as doorways and window frames. Spotlights – These are often some of the most powerful ways to draw attention to certain features, such as water features, statues, garden beds and trees. Shadowing Lights – A unique touch in landscape lighting is the use of shadowing lights which allow you to use the shadows they produce to add drama and depth to a garden space. Overall Lighting – This style is used with general purpose lights that are usually placed close together to create even light distribution across an entire outdoor space.
No matter what style you decide on, be sure to consider your current outdoor environment and how best each design style would fit into it. Additionally, take into account cost-saving measures like energy-efficient bulbs and fixtures that can help reduce energy consumption and save costs in the long-term.