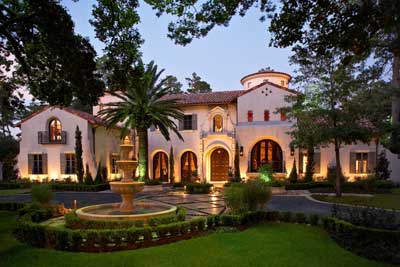 For too many clients busy elsewhere during daylight hours, their landscape investment can only be enjoyed on weekends when they are at home during the day. That loss of daily enjoyment is solvable by transforming darkened grounds into a welcome fantasy of light. Landscapes emerge at dark under subtle Houston outdoor landscape lighting to create wonderful shapes in hauntingly beautiful sculptured drama. Whether glowing with an Inner Light or outlined in elegant tracery against the night sky, landscape lighting paints the beauty of natural and cultivated forms, a pool, fountains and pathways with subtle shade, shadow and color.
While visitors appreciate delicate landscapes, the homeowner will gain extraordinary appreciation to find outdoor living enhanced luxuriously by countless nuances of "chiaroscuro", that dramatic play between light and shadow. Well-placed outdoor garden lighting along walkways and near hazards shows thoughtful concern for guests and adds safety to your garden of light. But to achieve this carefree beauty created at the flick of a toggle switch, it takes more than moon spots in trees. Illuminations Lighting Design brings unparalleled knowledge by master lighting designers to perfectly enhance the beauty of your surroundings with elegant residential landscape lighting.
Our experienced team of landscape lighting professionals are experts in creating outdoor landscape lighting plans for your home or office that utilize state of the art fixtures. Special consideration is given to the the size, type and wattage of the lights, as well as mounting techniques to protect trees and shrubs. We use only tree friendly landscape lighting equipment and take great pride in concealing the lights, wires and junction boxes visually, while allowing for tree growth and expansion.
When you work with Illuminations Lighting Design on a landscape lighting project here is what you can expect to receive from concept to completion:
A qualified outdoor lighting contractor will meet with you to discuss your design needs. Options will be presented and discussed to establish a design path and a master plan for the property.
A site plan is developed showing all structures, trees, flower beds and electrical requirements relevant to the design.
A formal rendering or CAD drawing is developed showing all landscape lighting fixtures, locations by type, wattage and by numbered for easy identification.
A detailed proposal, typically broken down into phases, will be presented for approval. Any additional work requested by the client will be incorporated into the design and resubmitted. Work will commence within 10-14 business days after receipt of contract.
A crew chief is assigned the work and walks the job with the Houston landscape designer to flag locations for the lights and discuss his or her vision of the completed work.
The first phase of the work typically involves installation of underground conduits for 120 volt systems and direct burial wire for low voltage landscape lighting in accordance with local and national electrical codes. Unless this is a construction site or discussed with the owner prior to starting the work, all trenching will be done by hand. We are tree, sod and plant friendly!
Outdoor lighting equipment is installed on the ground and in the trees. All Illuminations Lighting Design climbers use ladders, ropes and safety equipment to climb and rappel trees. Stainless steel bolts are used to mount the lights to prevent harm to the tree and allow for future growth.
Once the work is completed and the landscape lighting designer is satisfied with the fixture placement and electrical installation, a nighttime adjustment is scheduled and performed to fine tune the design.
Upon the completion of the night set, the work is presented to the customer for approval.
Our landscape service crews are some of the best in the business. They understand how light works and where the light should go to maximize your visual nighttime enjoyment. No tree is too high for our professional tree climbers! We are experienced in all forms of outdoor landscape lighting from simple low voltage systems to more complicated high voltage mercury vapor lighting systems. We stock a full range of landscape lighting materials such as fixtures, lamps and replacement parts. We not only service what we sell, but we can assist you with repairs or maintenance to existing outdoor landscape lighting systems installed by our competitors. All of our technicians are experienced licensed professionals and we subcontract no work to outside vendors. The results will be spectacular!
Related Content